A culinary showman
Chef Pasquale D'Ambrosio
Our culinary proposals are created from a real artistic talent, Chef Pasquale D'Ambrosio, whose ambition always was to create a "Theatre of Flavors" driven by his passion for the gastronomic world.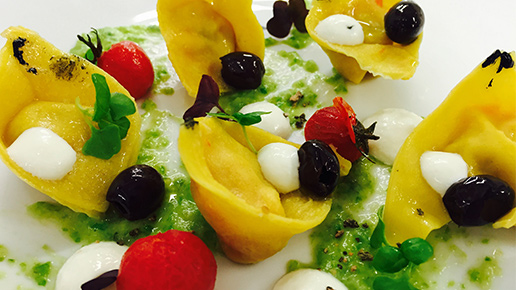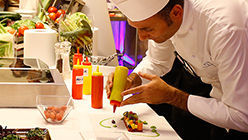 Who is he
Originally from Naples, but a citizen of the world, especially when he is in the kitchen. His journey begins with internships in various hotels across Rome, Paris, New York and Istanbul. After several years collecting experiences around the globe, he finally 1998 returns to Naples in 1998 due to the occasion to work for a Accor Group Hotel. The upcoming four years are fundamental for his career as he was able for the first time to express his own creativity.
2002
Pasquale D'Ambrosio joins for the first time the Starwood family being in charge of the culinary experience at the Sheraton Diana Majestic, where he was recognition as a chef was acknowledged even by the press not only for his culinary talent but also for his poetic and literary skills. During this period he started also to teach and participate in several forums.
2009-2014
During this period, his culinary journey was enriched with several projects from directing the kitchen in Petriolo Spa & Resort to managing important project like Internazionali di Tennis a Roma, Golden Gala Athletes and a key restaurant opening in Turin. Besides was he also invited as an essential guest in a few cooking shows for Rai Television.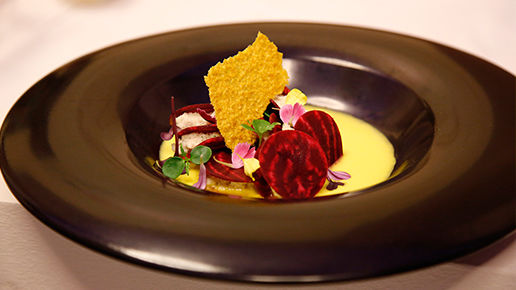 What is his mission
His strong enthusiasm and dedication for food grew out of three key elements that accompanied him since he was a young boy:
cycling who has educated him power
poetry that projected him into a world of passion
theater that has fueled his curiosity about exploring stories and traditions around the world
He sees himself, as the adventurer who besides finding the perfect balance of the mental and physical wellbeing, wants to emphasize the simplicity and emotional beauty to share a meal together. His culinary creations are his poetry and stage through which he wants to transmit emotions.
Discover some of his culinary creations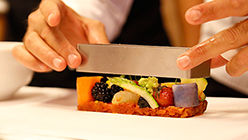 Beef Tartar
with a fantasy of fresh vegtables, fruits & herbs
Bruschetta
Feta cheese, cherry tomatoes, fresh basil & baby olives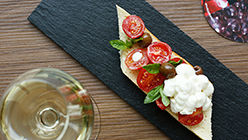 Scallpos
on a purple potato cream, sun dried tomato, anchovies & toasted pine nuts
Pizza Bread
baby plum tomato, Taggia black olives & marinated fresh sardines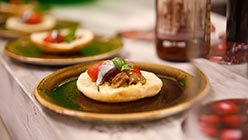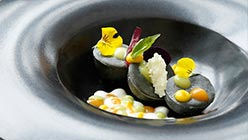 Cacio & Pepe
Homemade charcoal flavored egg dough ravioli with a cured sheep milk cheese stuffing & black pepper